Every weekend, I host our game sessions.  Everyone comes over to my house. It's convenient for me, since it is easy for my son Luke to join us, and with one exception, everyone lives close. As a result, I have a lot of games here, and I'm still collecting. A lot of the games I have are card games. They are small, usually inexpensive, and provide a complete gaming experience.  In addition, they are usually pretty simple to teach to new players, and have the advantage of being short enough to play multiple times over the course of a day.
This week is a sort of a 'bonus' week.  Today, you get three games, where you would normally get only one.
First up, Fluxx, by Looney Labs.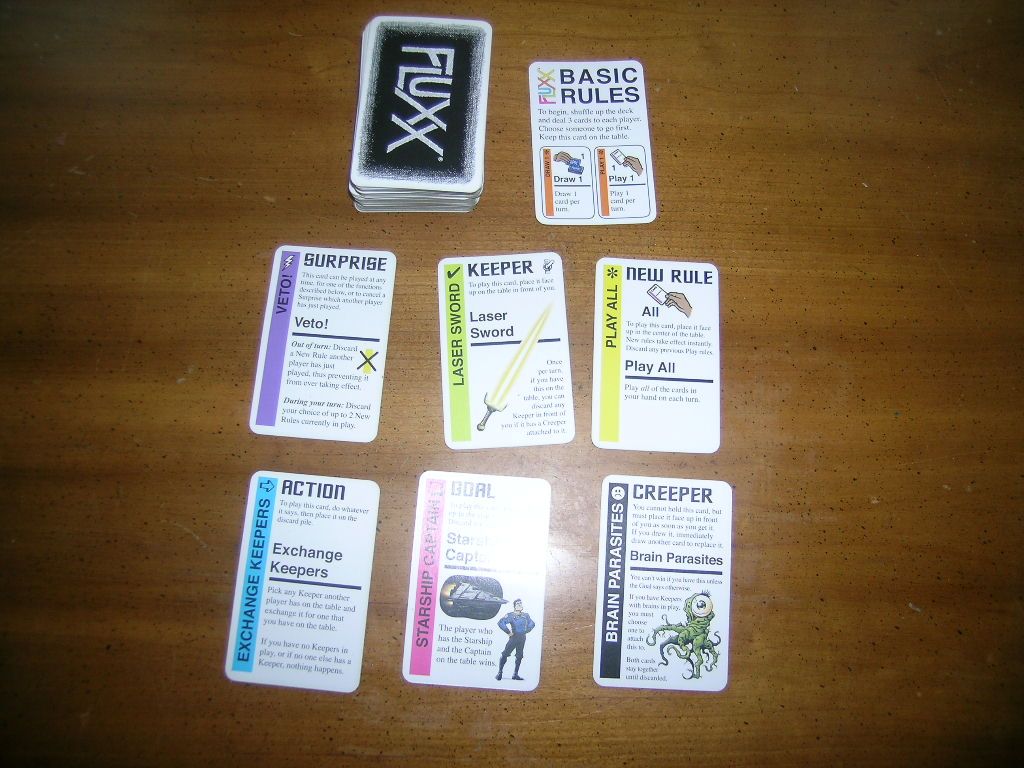 Fluxx is "The Ever-Changing Card Game". There are multiple versions available.  We own Cthulhu Fluxx, Pirate Fluxx, Star Fluxx, and Monte Python Fluxx ('cause I'm a Python fan, too).  Other Fluxx's available include Zombie Fluxx, Stoner Fluxx, and through small packs of cards, you can get Christian Fluxx, or Eco Fluxx.  In the end, the rules are the same, the games all play similarly, and it mainly depends on which theme you prefer.  The picture above is from Star Fluxx.
The rules start out simple: Draw 1 card, Play 1 card.  You do what the card says.  Then the next player goes. There are a variety of card types. Purple bordered cards are played in reaction to something another player has done. Green bordered cards are keepers.  You need these to win. Many keepers have a special effect. Yellow cards are new rules.  These make it so that you play more cards, or can only hold one card in hand.  These are the core of the 'Ever Changing" appellation. Blue cards are actions you can take through the turn. Purple cards are goals. Each goal card lists two (sometimes more) keepers that a player has to have in play to win.  The goal pictured, for example, requires a player to have the starship keeper and the captain keeper in play.  Whichever player can do that wins.  But, each player can play a new goal on their turn, so you may not get a chance to win. Black cards are creepers.  While you have a creeper in play, you cannot win. You have to play them.
Fluxx is a good way to waste twenty or thirty minutes. When each game is over, just reshuffle the deck, and deal out three cards, and play again. The only real problems with Fluxx are 1) how random the game is, you can't really plan very far ahead; and 2) you can't effectively mix your sets.  Each one exists in a vacuum. Mixing the sets dilutes the cards to the point where all it does it make things take longer to finish.
The cards are written and illustrated with a good dose of healthy humor. The game is so much fun, we bought four of them, and might even grab Zombie Fluxx soon.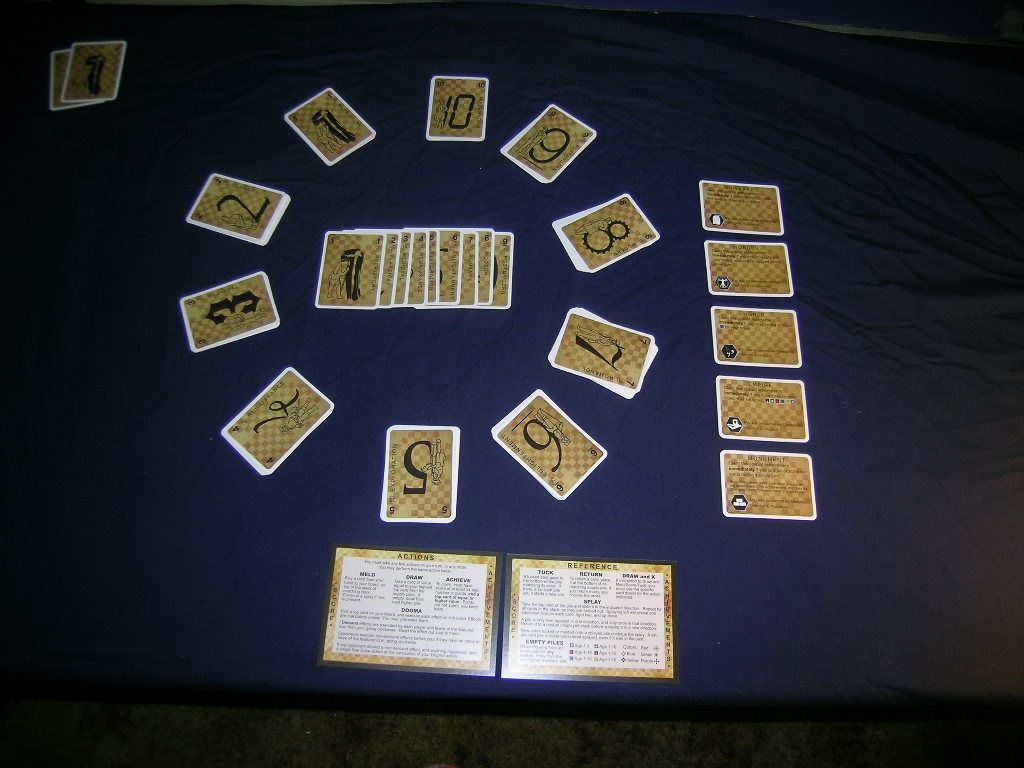 Next up, Innovation by Asmadi Games. I include this one today so you don't think that all I do is give positive reviews.  Not that this one will be a bad review, it's just… I don't "get" this game.  The premise is promising: you travel through the different ages of history, scoring points, which you use to accumulate various achievements.
As you no doubt know by now, I play a lot of Dominion.  While I was learning Dominion, there was an online implementation called Isotropic Dominion.  Iso Dominion is no more, but they still maintain the servers and have an online implementation of Innovation. I played a couple of games there, and decided it was interesting enough to pick up my own copy.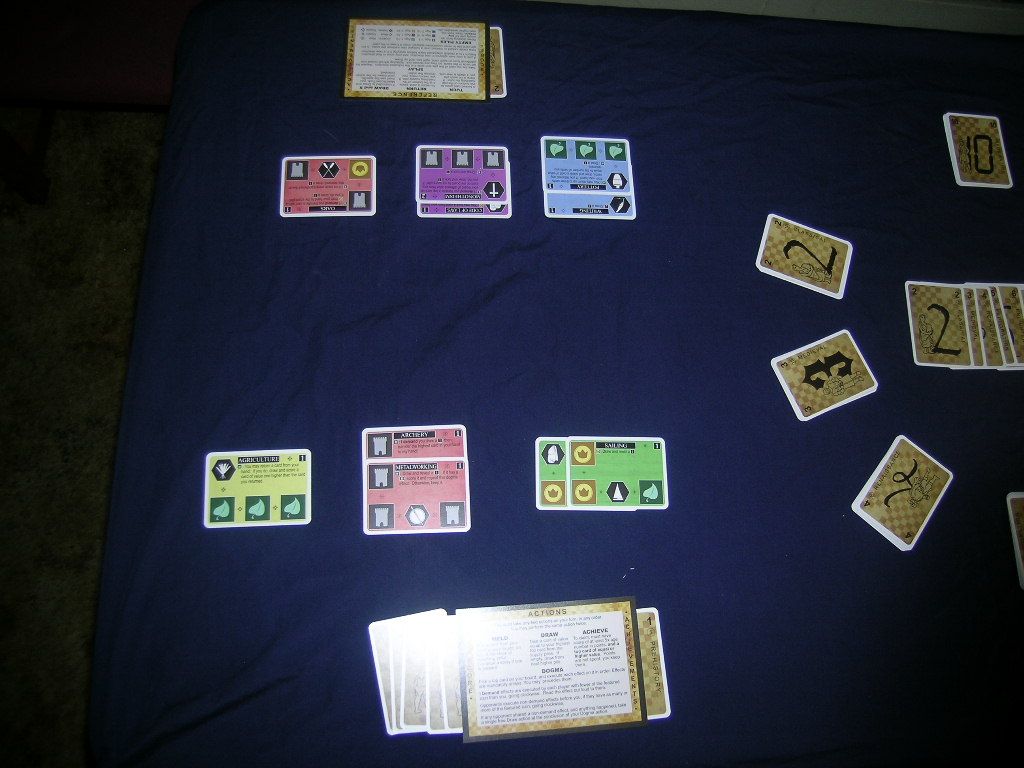 Each turn, you take up to two actions.  You can draw a card from whichever age you have currently reached, or you can 'meld' a card onto the play area (put the card into play), or you can invoke a card's 'dogma' (use the ability on the card), or if you have the points, achieve.  You win the game by scoring a given number of achievements before your opponents.
When you invoke Dogma, players compare their total number of a given symbol they have in play. Whoever has the most either gets to take the action as well (for non-demand actions) or forces his opponents to take the action (for demand actions).
Each achievement costs a certain number of points, so you have to take actions that let you score, but you also have to force your opponents to do things they don't want to do so they can't win.  There are also five achievements that can be scored without having points, but they often require complex alternate means to complete. Each card does something different.  Each card also has a different number of symbols on it. The card interactions are often subtle an surprising. The only way to do well at the game is to know all of the cards and how they interact. This takes time. We don't play it much because of how steep the learning curve seems to be.
In the end, if you decide to check it out, have fun.  There was something there that inspired me to pick it up.  In addition, if you are an Innovation player, and feel you can help clear up some of the mystery, I would love to hear from you.
Finally, there is "Infernal Contraption" by Privateer Press.  It is set in their "Iron Kingdoms" setting for the Dungeons and Dragons role-playing game, but you don't need to know any of that to enjoy playing this one. In this game, each player plays a 'Bodger', which is a goblin tasked with building the best contraption.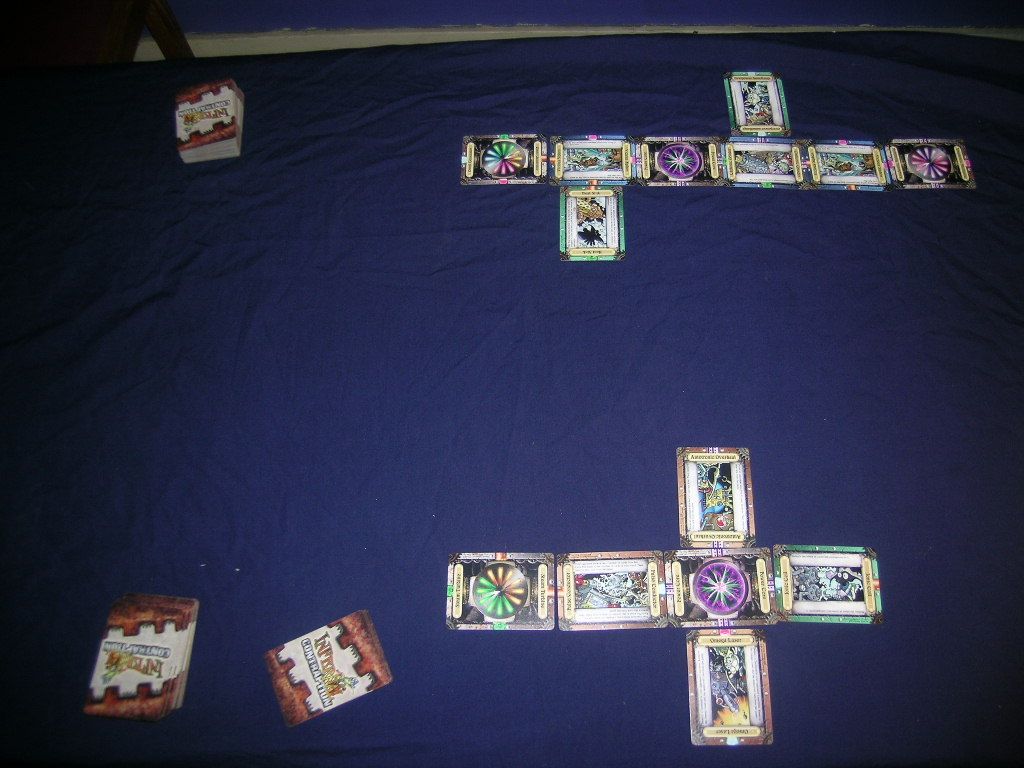 Each player is given a universal power core to start their machine with.  Then the entire deck of cards is shuffled and divided evenly between the players. This is their initial parts pile.  If you run out of parts, you lose. Players draw seven cards.  On the edges of each card is a symbol.  To play that card into their contraption, the symbols must match.  Each device added to the contraption requires a power core.  Each turn, you add parts to your contraption, and then you switch it on. Each device has a different effect, from destroying parts on your opponents contraption, to taking cards from their parts pile, or the discard pile. Others multiply the effects of your devices.
This is a little bit of a tricky game to learn.  You have to learn which kinds of devices are played in a line, and which ones can be played above or below the main line. Sometimes, your devices will backfire, doing something you didn't expect or fully understand. And of course, there are the sabotage devices your opponent is playing on your machine to really mess things up.
In the end, it's one of those games that is harder to describe than to play.  Once you are all on the same page, it plays quickly, if sometimes frustratingly.
To sum up, then, my recommendations:
Fluxx: Absolutely pick this one up. Easy to learn, quick to play, lots of evolving complexity to keep you guessing.
Innovation: Pick this one up if you are prepared to spend a lot of time with it to get good at it. You may want to pass on it otherwise.
Infernal Contraption: Another winner. Go get it, you'll like it.
As always, feel free to leave comments, I'll do my best to respond.  If you want to share some advice for one of the games I have reviewed, feel free.  If you have a game you would like to recommend I try, leave a comment or shoot me an email: tolenmar@yahoo.com.
If you have a game you would like us to try out and to review, or if you are designing a game, and want a group of playtesters, contact me through email, and we'll see what we can work out.